Arcadia is a wonderful mountain area and its rich history stretches from ancient times till now. The "Menalon Trail' – a continuous, mountain walking route 75 km. long which follows the Lousios river gorge, West Menalon, the Mylaonta river valley and the Gortynian Mountains – was created in cooperation with the Region of Peloponnese, the Municipality of Gortynia, ELLINIKI ETAIRIA – Society for the Environment and Cultural Heritage, the Association of Arcadian Alpinists and Ecologists and volunteers from the area.
The "Menalon Trail" is incorporated in the "Paths of Culture" programme of the ELLINIKI ETAIRIA. The planning, organization and general infrastructure were implemented in accordance with the prototype of the "European Ramblers Association" for the certification of walking networks on the basis of 41 measurements and qualitative and technical criteria, in order to create a cohesive, interesting and safe mountain adventure for the visitor. Menalon trail is the 1st trail in Greece and amongst the 10 in Europe (31/5/2015), with the international certification "Leading Quality Trail – Best of Europe".
The trail makes use of old mule paths and joins nine historic villages in Gortynia, thus creating 8 adjoining routes. The cleaning, preservation and signposting was made possible by the decisive support of the volunteers from the local community. Organizations and volunteers offer the visitor the opportunity to discover the superb mountain landscape with its untouched nature and unique history.
1 Stemnitsa – Lousios River Gorge – Dimitsana
2 Dimitsana – Zygovisti
3 Zygovisti – Elati
4 Elati – Vytina
5 Vytina – Nymphasia
6 Nymphasia – Magouliana
7 Magouliana – Valtesiniko
8 Valtesiniko – Langadia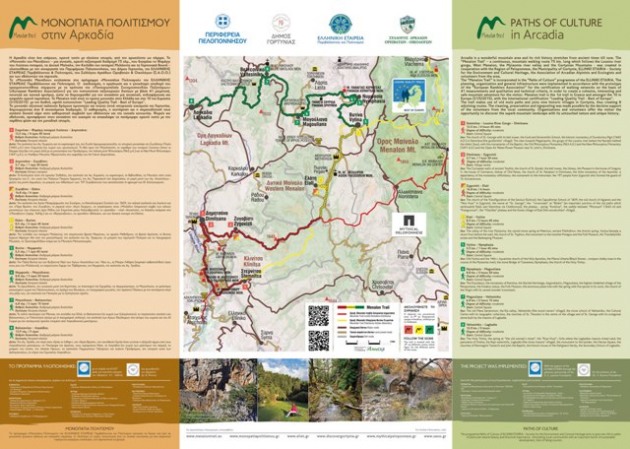 THE PROJECT WAS IMPLEMENTED:
– With the support of ELLΕΤ through the generous sponsorship of the A. G. Leventis Foundation
– On the initiative of the Chr. V. Rounios Foundation
– And with the participation of local businessmen, organizations and societies:
STEMNITSA
– Cultural and Beautification Association of Stemnitsa "IPSOUNTAS"
– Stemnitsa's Tourism and Food Enterprises Union
DIMITSANA
– Brotherhood of Dimitsanitans "'Gregory V"
– Dimitsana Commercial Association
– Welfare Fund of Dimitsana
– Dimitsana Women's Association for Agritourism and Culture (ARTemeis)
– Legacies of Dimitsana N.Makris – D.Pappoulias
ZYGOVISTI
– Zygovisti Fellowship "Metamorphosis"
ELATI
– Association for the Progress of Elati "Fysiolatres"
VYTINA
– Association of Sustainable Development – Vytina
– Association for the Progress of Vytina's District
– The Worldwide Association of Vytinians and Friends of Vytina "St. Tryphon"
– Traders and Professionals Association of Vytina
– Cultural Association of Vytina «Constantine Paparrigopoulos»
– Vytina's Ladies Group
NYMPHASIA
– The Worldwide Association of Nymphasians "St. Trinity"
– Mainalon Environmental Association
MAGOULIANA
– Panhellenic Association of Magouliana
VALTESINIKO
– Valtesiniko Cultural Centre
– Valtesiniko Cultural Association "The Dormition of Theotokos"
– Valtesiniko Academic Youth Association "The Regeneration"
LAGKADIA
– Lagkadia Volunteer Group
– Citizens' Association for the Protection of   Traditional Architecture "ANTHI TIS PETRAS"
– Syndesmos ton en Attiki Lagkadinon